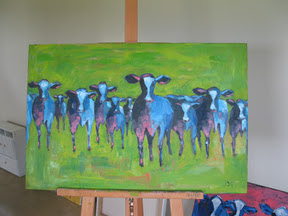 I painted these girls big.....I mean, very big! It is unusual of
me and I must admit I struggled to find the looseness and the same vibe as the smaller ones painted earlier in the year.
I am back to painting smaller, an achievable task given the boys are both at home for the holidays and seem to sense when I wander into the studio that the games can begin!!! I often surface after an hour of painting to discover that a raiding party has made a successfully bid to free the chips from the pantry, the sweets from the cupboard and there is jelly powder sprinkled on the kitchen bench.
I shall have to find an excuse to pop into town to the art store to buy a few more canvasses 8" x10", my new favorite size.
but first, I have to do battle with me broadband service provider....sigh.I feel very David and Goliath, but without the stone, right now.
I