I managed a quick paint after a supremely relaxing and surprisingly wholesome Xmas weekend, spent with friends.
My Xmas tripod has yet to arrive and I have used the iPad to take these photos...blurry but it,s all about the vibe, anyway!!
Hamilton train station platform, looking south .
6x8 inch(15 x 20cm)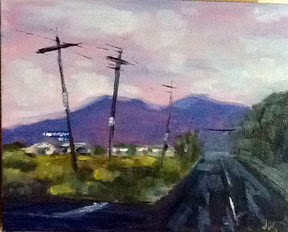 Rukuhia road at the junction of Herman road, looking towards Mt. Pirongia.
8x12 inches ( 20 x25 cm)
- Posted using BlogPress from my iPad