Charles and the boys have gone trail riding today and left me at home. It feels weird.But let's not look a gift horse in the mouth, now, sunshine!!
I have made the hay while the sun is shining...I have painted my socks off. But I have to rest now...I just rinsed my brush in my cup of tea( sure sign of tiredness!).
It's a bit blurry, but you get the vibe.This is the Thomas farm down Ngahinapouri road.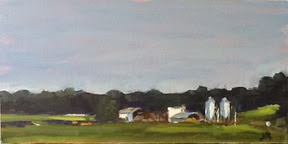 I will post the others when the camera comes back from trailriding.
- Posted using BlogPress from my iPad